Biography (August 2005)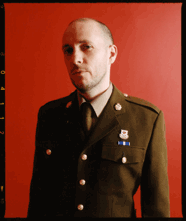 Vic Twenty conjures up an image of defiantly retro stylings, old 8-bit computers that predate PlayStations and the rest of the current crop of entertainment machines currently in circulation. Named after one of the earliest Commodore computers, Vic Twenty - the pseudonym of Adrian Morris - is evidently an electro fetishist, except that their sound really could be from 1981. In fact, after hearing one Vic Twenty track, Mute's Daniel Miller remarked that the sound was 'too 1981', which is in a sense, validation enough for their melodic synth pop leanings.
Raised in Cardiff on a diet of seventies Glam Rock staples such as Gary Glitter and Mud, Adrian Morris realised early on that being cool and being into music need not always go hand in hand. Later, a love of the synthesizer chill of Kraftwerk, early Depeche Mode and OMD, informed his love of electronic music, while a love for the ordinary-man-on-the-street lyricism of Stiff Records' Jona Lewie inspired his writing. A key musical epiphany arrived in the shape of 'Jack And Jill', the 1982 Rialto single by Victims Of Pleasure. The track was recorded using a Casio VL Tone, an early digital synth and calculator oddity which the teenage Morris also happened to own, and which inspired Morris to create primitive synth tunes by dubbing parts to cassette. Proper equipment and stints in various local Cardiff bands followed, before a move to London and a long-term relationship sidelined his musical endeavours. In 1997, as that relationship unwound, Morris found himself drawn to composing melodic songs utilising the same set of synths and drum machines. Just through the passing of time, the sounds were now less comtemporary, more retro, and out of kilter with most of the London club scene.
Tired of not hearing the synth music he loved so much, Morris and some friends were inspired to set up the Analog Cabin club night, which had a 'strict no sampled drum loops' policy, and which attracted luminaries such as Jona Lewie, and David Baker and Simon Leonard from Komputer (nee Fortran 5 and I Start Counting). A total contempt for mainstream club and rave culture inspired the cynical, melodic pop of early tracks 'Ibiza Mon Amour', '8-Bit Hit' and 'Text Message', while the quest for 'an 8-bit lo-fi electronic sounding name' inspired Morris to settle on the moniker Vic Twenty. Unlike the similarly-named Commodore computer, Morris decided to spell out the Twenty to provide more of a human feel. To promote the new songs, Vic Twenty started to play more live sets. After seeing Angela Penhaligon (aka Piney Gir) perform, Morris invited her to join him on stage. 'She had a great voice, plus she could play and sing at the same time. Perfect,' Morris explains. In 2003 Vic Twenty released 'Text Msg' on Daniel Miller's seemingly non-starting label, Credible Sexy Units - set up specifically to release the single - and supported a rehabilitated Erasure on the second leg of their 2003 tour to promote Other People's Songs / Hits!. Piney left shortly after and has since established herself as a solo artist.
Vic Twenty recall a time, epitomised in Gary Numan's idolisation of the motor car or Kraftwerk's tributes to pocket calculators and personal computers, when it was okay to stand in awe of technology so much that you couldn't help but want to write songs about it. Except that, unlike Kraftwerk's po-faced idolisation of the autobahn, Vic Twenty know that you shouldn't take things too seriously. And so we have it - perhaps the new Silicon Teens?
The debut album, Electro Stalinist, is released in August 2005.
by Mat Smith of Documentary Evidence