Welcome to T-Square Records
15th August 2005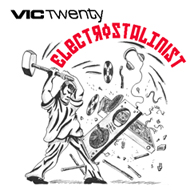 The Vic Twenty album "Electrostalinist" is available for purchase from today.

You can order it securely on-line right now using PayPal.

Anyone who has purchased goods from eBay will be familiar with this method of payment. You don't even need to have an account or register with them.
It is easy peasy and safe - so don't delay!

Go to the shop to place your order!


For audio snippets and further information, be sure to visit www.victwenty.com